I am Drunk and I hate him.
This is what I scared about blogging. People that we hate probably will read it but hopefully not from mine because I hated if someone know if I hate them when they already being bitchyly nice in front of you. So anyway, sorry for not updating for so long because I was busy for the past few days or weeks.. whatever @_@ all I could say for now that I have no time to blog at all because of tiredness coming back from College and the homeworks and assignment that need to be done! WOO! must not fail this time (
and I hate Malaysian Studies even if I havent started on that subject yet, but if it's all about BM.. somehow I should say that I have regretted to fail on my BM
)
Met some new people they were wonderful people and at first I was afraid not finding a friend but fortunately I did. Thank you god, they all are nice and somehow very very playful. There is this international student and also there's one who is older in the class like in her 40's or something.. she was like the oldest in the class other than those Iran people who are like 20 and above. Wow, I am very happy to even talk to one and almost forgot they are twins.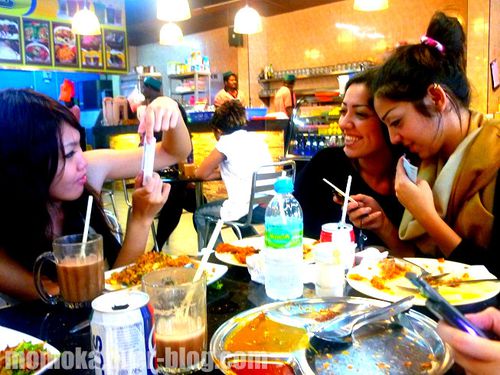 The girl took picture of those twins is Pinkie (
17 year old girl a local in KL
) and the twins is Pari 1 and Pari 2.. the reason I gave both of the twins name and number because it's hard pronouncing their name and they look identical so we just call them Pari or the other one Paria. It's fun talking and meeting new people and even fun to talk english everyday with them although they are slight of grammer error but hey we did learn and beside we did improve a bit.
There's still more picture of my new friends in college here's the pictures.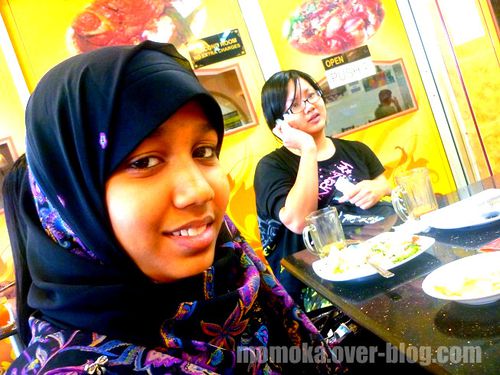 This Indian girl in tudung is Jascinta and the one on the phone that chinese girl over there is named Catherine.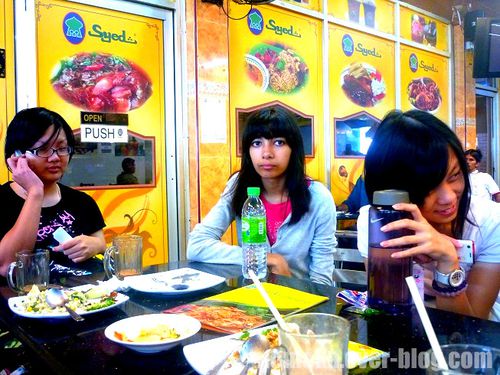 Catherine, Jastina (
the shy and quiet type
) and lastly in the picture is Sandra.
There are others like Jeslyn, Kar mun, Shen ling but everyone head is too big hard to take lah :P. College is nice but somehow I'm still struggling to try and make people not hate me >_< because I totally hate that. Oh about the time table I read the title and it says something about Foundation? I mean, when have I agreed to take on foundation? I thought only 5 credit student could take it but somehow I heard from my friend or was it the teacher? that the system has change and this is how they want us to learn if this courses we took is the thing we want to learn. So one semester being with them and the next semester is off learning our own courses.
Oh man, T_T when I got use to with the people here in my class.
This is just my recent picture and as you can see we are drawing something as a practise first then the real thing that is in front but I don't think you guys could see it very well.
Aside from all this college stuff, I would like to move on to why my title is "I'm Drunk and I hate him" the 'him' is that I am referring to Roshan because he bought me this drink that made me feel slightly drunk (
this is my first time actually but not so much lah I still cansedar
) not just that I met his friends as well, Fikk, Natasha and this tomboy girl. To be honest, I am not comfortable to be with this kind of people who drink, smoke or anything. Even if that tomboy girl is kind enough to tell me that she smoke and drink or whatever I don't mind but Roshan is such an idiot to even let me meet someone I dislike so much.
Everyone who are reading now should know that I don't mind people smoke or drink but please do have some understanding and decency ok? so stop bitching around (
and I wish I could tell them this in front of their faces
) sometimes I'm an old fashion type of girl, someone who are close to me like for example my boyfriend.. he introduce me to his friends and honestly their behaviour I've seen in front of me are total idiots. These kind of people are not my kind of people I want to be friends with. That's why I prefer to be serious and not show my real side 100% to people that my boyfriend is hanging out with. They have failed my test so they will only win my smile but not my friendship, even if they do want I could always pretend to be friendly.
Whatever, talking about smokers and bitches just wasting my time. Alrighty then, we'll see how long I will last with my current boyfriend and start surviving my live here in KL.

Until next time hopefully I could blog again. Just been busy busy busy.